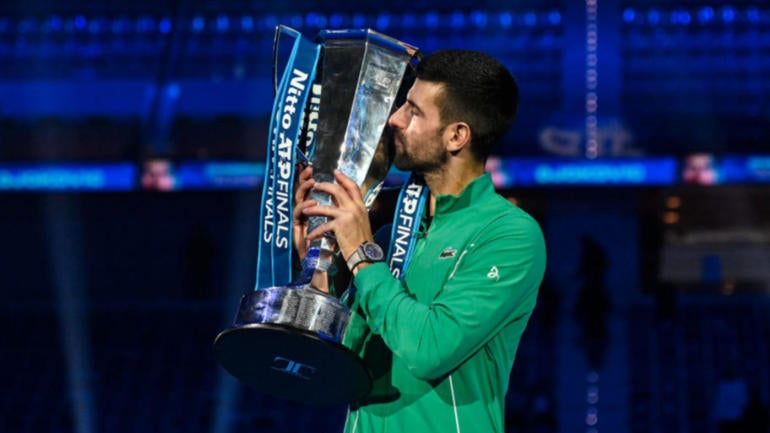 Getty Images
Tennis star Novak Djokovic concluded a historic 2023 season with a straight-set victory over Jannik Sinner, winning a record-breaking seventh ATP Finals title. Djokovic came into the tournament with six ATP Finals titles, then tied for the most ever with Roger Federer. 
Sinner was the home favorite as the match was played in Italy, and he already managed to beat Djokovic earlier in the week in the group stage. Djokovic wanted to bounce back and came out strong, winning 20 out of 22 points on his serve in the first set. After an hour and 43 minutes, Djokovic lifted the trophy with a 6-3, 6-3 win.
Djokovic, 36, is ending the year as the No. 1 player in the world for a record-extending eighth time, and he's also the first player to be ranked No. 1 for a total of 400 weeks. He dominated all year by winning the Australian Open, French Open and US Open, improving his Grand Slam title total to a men's record 24. 
Only Margaret Court, who played in the 1960s and '70s, has as many Grand Slam titles as Djokovic. Djokovic also reached the 2023 Wimbledon title match, which means he reached the finals in all four majors this year — something nobody else has achieved since he did it in 2015.
"It's very special," Djokovic said after the match. "One of the best seasons I've had in my life no doubt.
"The way they have been playing, I had to step it up. I had to win the matches and not wait for them to hand me the victory, and that's what I've done."